FEX DMS - Used Car Dealer Software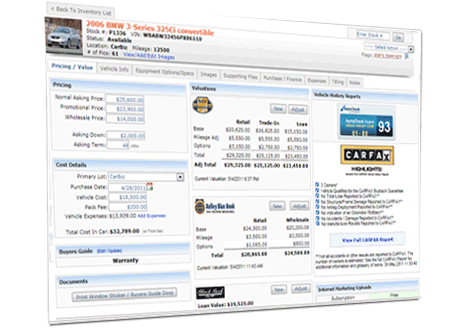 Powerful VIN "exploder".

The FEX DMS solution is comprised of feature rich inventory management, sales, customer and lead tracking tools, along with powerful custom reporting and data exporting capabilities. Integration with well-known, Tier 1 forms vendors allows the dealer to print all required contracts, documents and forms to plain paper using either an inkjet or laser printer. As a FEX DMS user, the dealer will never have to install any updates and is guaranteed to be using the latest version at all times. The dealers FEX DMS data is being continuously backed up, so there is no need for manual backups.
Other Key Features
Track all inventory including multiple locations, sales and receivables – online, real-time
A robust VIN decoder allows you to quickly and accurately add and describe inventory
Upload and store unlimited images
TCN - Automated Dialing Integration
Generate comprehensive window stickers with categorized technical specs and equipment
Print compliant FTC Buyers Guides
Access to vehicle valuations (NADA®, Black Book®, Kelley Blue Book®, and MMR®)
Integrated Carfax® and AutoCheck® reports
Integrated Red Flag solutions
Create and compare multiple worksheets per applicant
Accept secure online credit applications and receive instant notification via email or alert
Powerful Lead Management System (LMS) allows you to keep track of all incoming leads and sources
Proprietary security modules allows you to establish login restrictions for your users (day, time and features)
Fax/Email documents directly from the system
Download recently purchased auction vehicles from Manheim
Electronic filing cabinet (eCabinet)
View and store credit reports
Detailed online training calendar taught by subject matter experts
... And So Much More